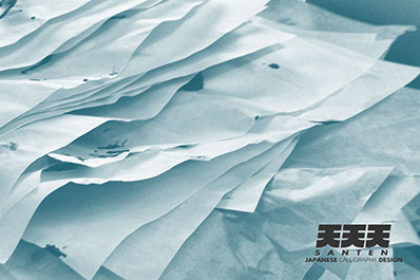 If you make a question what Shodo is to Japanese people in a town, their answer will be as following,
"Oh, that one. Put ink on a brush. We did it at an elementary school. It's boring."
The image on Shodo, which many Japanese people have, is one of the most boring subjects at a school. It makes mess, is bother to clean up, gloomy, hobby for elderly people, and so on.
I also used to have a negative image on Shodo, when I was little.
At a school, we do Shodo as Shuji (learning letters) in a fixed style. We need to write letters in determined shape, so it is boring for children.
In addition, so few people or books teach us how to enjoy Sho.
The problem of Shodo is that the entrance looks too boring.
Yet, what I want to tell you is that it "looks boring", but it's "not boring" at all.
I'll talk to you later in more detail, Shodo is not quiet and cultural, but rather is close to sports. A Shodo artist represents that Shodo is fighting.
Fortunately or unfortunately, I have walked through the gate and am at the present position. But the image has already been changed from the one that I had when I was little.
That's right. Shodo is very tasting and enjoyable.
Thus, I want to talk about what is there after walking through the gate at the next article.